Grades, sleep, friends: choose two.
That saying has never been truer than second semester third year, when everyone is getting ready to apply to grad school and we're all having flashbacks to the standardized tests we all sat through to get into this wonderful school…which now look like cakewalks compared to the looming MCATs and LSATs and GMATs.
Third year is all about challenging yourself and beefing up your resume, whether that's for yourself, for grad school, or for future employers. For me, I was elected Captain of Club Figure Skating, finished two websites that show my interest in web development for full-time employment, and am still working part time for Boeing. I'm only taking 13.5 credits (under-enrolled for an engineer – we usually take 15), but one of those credits is part one of the Computer Engineering thesis sequence…and so we're finally forced to accept that we have to leave next year. Graduation has never seemed more real, but if you're like me – we just pretend that it's not going to happen!
Regardless of where us third years are planning on going after Graduation next year, now is the time to make the most of our time here. So, without further ado, here's a normal day for me:
5:30 AM. Wake up…and realize the sun won't be up for another two hours or so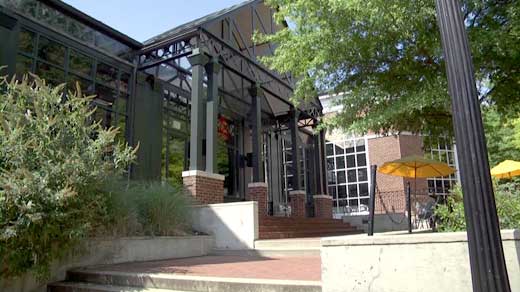 Main Street Arena on the Downtown Mall
6:30 AM. Club Figure Skating practice at Main Street Arena. We get an hour and a half on the ice, and we're able to practice anything we want. The Club is entering it's first competition in March, so these practices can be super valuable…if we're awake, that is.
9:30 AM. Computer Engineering Capstone Part 1 – and this week we have a test. This class is all about creating and optimizing virtual computer parts, which is super awesome and what I thought Computer Engineering would actually be when I declared the major.
10:46 AM. Start the long walk to McLeod Hall, which is almost as far away as you can get from the Engineering School.
11:00 AM. Sports Psychology – as a Computer Science major, I have to take approximately 8 trillion Humanities electives, but thank goodness this fulfills my last one! I chose to take this course because I also coach figure skating…but we'll get to that later.
12:30 PM. Operating Systems with a tenured professor who doesn't believe in grades and gives take home-tests via Google Forms…but teaches us the intricacies of a brand new language and operating systems features. Let's just say low level programming is not my forte…but definitely a worthwhile class.
2:00 PM. Rush back to the rink to get on the ice for 3 private lessons on public sessions. Hope toes don't fall off from the cold.
5:00 PM. CS 2501, which is a class where CS TAs bond with professors and watch Aaron Bloomfield sword fight some random person…but really it's just a class about Computer Science education. One credit, but definitely worth it.
Personal favorite at the Pav: Turkey wrap from Montague's Deli
6:00 PM. Dinner and Club Skating office hours in the Pav (Pavillion XI) – a girl's gotta eat! The Pav is my go-to place for a quick bite to eat...who could pass up meal swipes for smoothies, sandwiches, Chick-Fil-A, or burritos? But also, this is when I do all the club paperwork and collect forms and do all that fun stuff that comes with being a captain.
8:00 PM. TA an Intro CS lab – primarily made up of first years who don't watch the Olympics…first years are crazy.
9:45 PM. Finally done with TA-ing, run home and do a few hours of work before falling asleep on my laptop around midnight.
Only to repeat it all again the next day…like I said, I'm only in 13.5 credits, but this semester is probably the busiest I've ever been. But it's all activities that I truly care about - even random extra minutes that I find during the day are spent working on homework assignments, adding some website updates, or catching up on the Olympics. Third years really get to see the importance of student self-governance (that's TJ's thing)…mostly because we're the ones doing the governing!