I'm not sure I really know the meaning of the word "break."
I left Charlottesville an hour after my last final (after a frantic 20 minute packing session that I should probably win a medal for), and less than 12 hours after I got home in NoVa I was back at the same desk I sat at all summer during my internship.
I got a great opportunity to work at MITRE, a company headquartered in McLean, Virginia, and Bedford, Massachusetts. The department I was working with was subcontracted by the FAA, so I got to work on a project that helped prevent planes from running into each other. I can't go into many specifics, because the group is in the process of applying for a patent, but working at a company over winter break was a great experience. There's a huge difference between working at a desk job during the summer and around Christmas: this time, I had so much more time to experiment with the product and see what features I could come up with, since everyone else I was working with was at home sleeping and eating all of that delicious holiday food (not that I'm jealous…but really, sleeping in one day this break would have been nice). And as an engineer, I learn more by doing, so that real life experience was invaluable.
Plus, since no one was at work, they let me fly a plane on the simulator they have there...I didn't even crash it! (So basically I just played with all their high-tech toys for two weeks)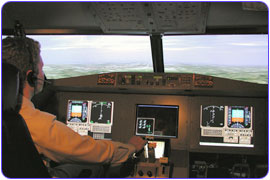 So I was super busy with work, but I still found time to see my high school friends when I was home. And now that none of us live in D.C. anymore, we finally started taking advantage of everything the city has to offer.
Don't get me wrong, it's great knowing that you'll have a little extra cash for next semester, but I definitely would not recommend working as much as I did this break. It was exhausting, and I loved every minute of my job, but I've never been so relieved to be back at good ole UVA.